The Best Air Conditioning Repair Company in Southeast Pennsylvania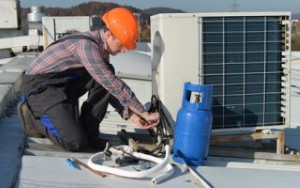 One of the responsibilities that is associated with being a homeowner is having contact information for various industry experts, including an air conditioning company. By doing so, you know exactly who to call on when you find yourself in need of air conditioning repairs.
Horsham, PA locals have come to rely on the Fisher Mechanical Inc. for approximately six decades now. Our quality workmanship and dedication to customer satisfaction has been integral in helping us secure the impeccable service reputation that we have.
Understanding AC Repair Issues You Are Likely to Face
As with any type of system in your home, there are some common issues you are more likely to deal with when it comes to your air conditioner.
When it comes to cooling systems, refrigerant leaks are a common problem. This will cause the air conditioner to not be able to cool correctly, and the exact location of the leak must be determined.
The thermostat controls the entire system, acting as the brain. If something malfunctions with this component, the whole thing will not work properly.
Approximately every three years, your evaporator coils require maintenance in order to remain operational. Ignoring this can lead to much more serious issues.